Welcome to Dalton Chiropractic! Your Fremont Chiropractor
---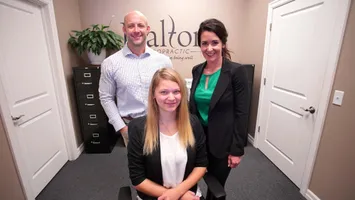 Proudly serving Fremont, North Bend, and the surrounding area, here at Dalton Chiropractic, we offer a wide variety of chiropractic services to our patients. We are a team of friendly, compassionate, and dedicated chiropractic professionals who go above and beyond to ensure every patient receives optimal care. We help you incorporate healthier decisions into your lifestyle and treat underlying problems to help you recover them and reach optimal health. No matter if you have acute or chronic pain, an injury, or a spinal condition, we are here to help.
Services We Offer
Suffering from any kind of pain, injury, or condition can only set you back and reduce your quality of life. Here at our chiropractic office, we help find the root of the problem so that it doesn't hold you back or lower your life quality anymore. No matter if you're looking to relieve some mild discomfort or you have more complex needs, your first visit to Dalton Chiropractic will be the start of a new, healthier lifestyle. In particular, at your first visit, Dr. Aaron Dalton will discuss the benefits of chiropractic care and give you a complete evaluation to uncover your chiropractic needs. From there, we will work with you to develop a customized plan designed to treat your specific condition and reach your health goals.
Services we proudly offer are listed below:
Nutritional counseling
Lifestyle counseling
Spinal and postural screenings
Meet Our Fremont Doctor
Inspired to pursue a medical career at an early age, Dr. Aaron Dalton was always determined to help make a difference. Motivated by his father, Dr. Aaron Dalton's commitment to helping others reach healthier lifestyles is what ultimately led him down the path to becoming a chiropractic professional.
After becoming a board-certified chiropractor when he graduated from Palmer College of Chiropractic in 2009, Dr. Dalton went on to work alongside the NFL, YMCA, and the Professional Rodeo Cowboys Association, bringing his unique approach to physical well-being to athletes at every level from High School to Olympians. Whether you need chiropractic care to relieve simple soreness or chronic pain, he is here to help.
Helping You In Every Way
Made up of people from the Fremont community, our team takes pride in being a part of the community we serve. When you entrust your healthcare with us, you will be treated like family and greeted by friendly, familiar faces at every visit. Keeping each patient's health is our priority, no matter if you're an athlete looking to get into optimal shape for the big game, or you just suffer from old-fashioned back pain from wear and tear, our team is here for you.
Contact Us
If this is your first visit to a chiropractor, our team of friendly professionals at Dalton Chiropractic is here to serve you. Call (402) 727-1677 or email our Fremont practice to find out more about how our chiropractic services can help you achieve optimal health or to schedule an appointment.